Del's Lemonade
Picture a hot summer day and the taste of a refreshing, tangy, and sweet lemonade. That's the taste of tradition, and that's the taste of Del's Lemonade. Rooted in Rhode Island, Del's is a long-standing staple that has been quenching thirsts with their all-natural frozen lemonade since 1948.
Their story begins way back in 1840 in Naples, Italy, where the DeLucia family first crafted this heavenly drink. With a storied legacy passed down through generations and a recipe that has traveled continents, Del's has expanded to numerous franchises worldwide.
Today, they're not just about enjoying their delicious lemonade at their locations. They also provide 'Make At Home Mixes' for those who crave Del's refreshment from the comfort of their home. Plus, their pop-up stands at events have become a crowd-favorite, serving smiles alongside their famed lemonade.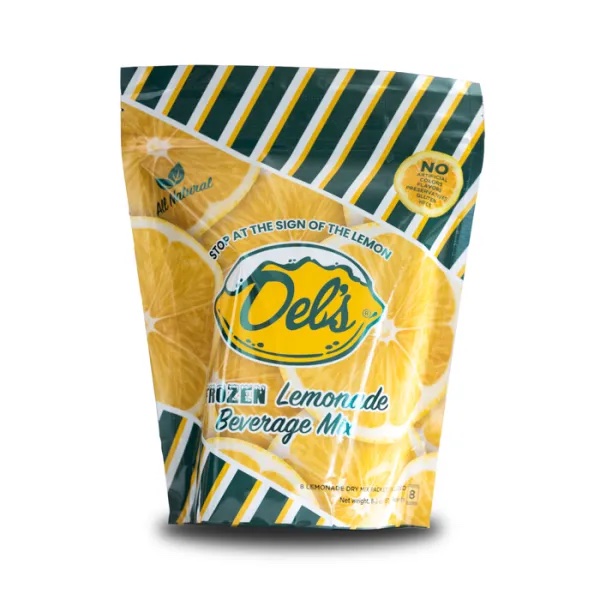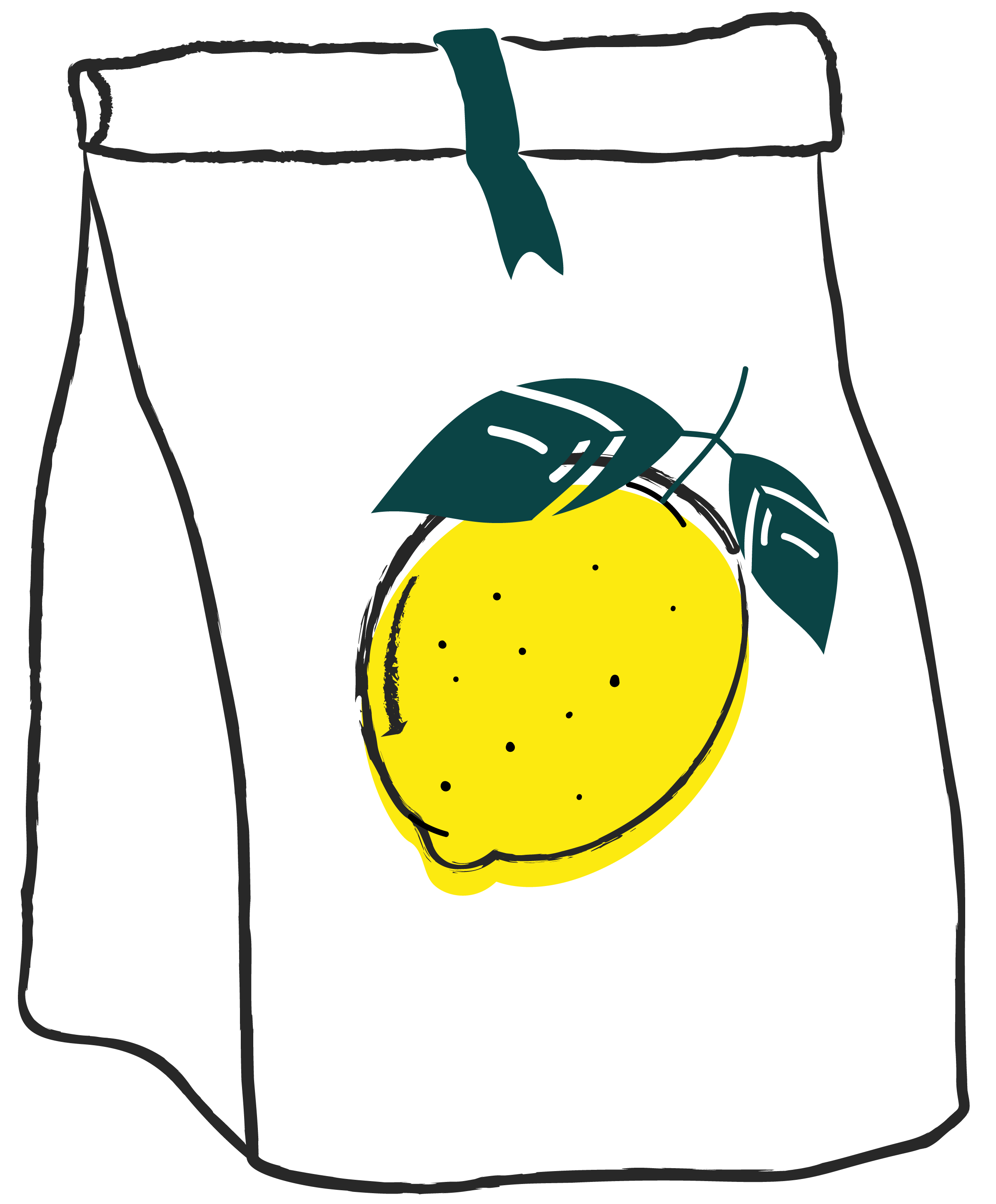 The Challenge
Del's Lemonade turned to TIB Creative Studio with an exciting project – to revamp their packaging design. The aim was to blend tradition with innovation, preserving the legacy of the brand while giving it a fresh, contemporary appeal.
Our Solution
We dove headfirst into this design challenge. There were sketches, revisions, back-and-forths – a creative tango that was as exciting as it was rewarding. While we at TIB Creative Studio had a few adventurous concepts up our sleeves, we recognized that the client's vision was paramount.
The final design Del's Lemonade chose was a tribute to their timeless brand identity, with a sprinkle of freshness that we introduced. While a part of us wished we could have pushed the envelope a little further, we found joy in creating a design that truly resonated with Del's and their loyal customers.
Del's Lemonade was so pleased with our work on their packaging that they invited us for another creative waltz – this time, to revamp their website. Staying true to their spirit, they wanted a whimsical and fun design. We're currently in the thick of this project, whipping up a website that promises to be as refreshing and delightful as a glass of Del's Lemonade on a sunny day.
At TIB Creative Studio, our ultimate goal is to shape our clients' vision into reality, even if it means dialing back our urge to be bold and adventurous. After all, a happy client is what gives us the biggest creative high!
Del's Packaging Design Journey with TIB Creative Studio
When Del's reached out to us with their packaging redesign requirements, they had a list of elements they wished to incorporate in the design. Their prerequisites included the use of provided designs, a "frozen" type text, old photos and paintings, Rhode Island's state outline, a modern design consistent with Del's branding, and the possible use of real fruit imagery.
TIB proposed initial concepts exploring the use of real imagery, muted and pastel colors contrasted with their logo, vector flat icons and illustration patterns, white minimal design with masking, and bright vibrant colors with gradients. We proceeded with creating a series of design proofs for Del's packaging, focusing on capturing the brand essence while adhering to their requested elements.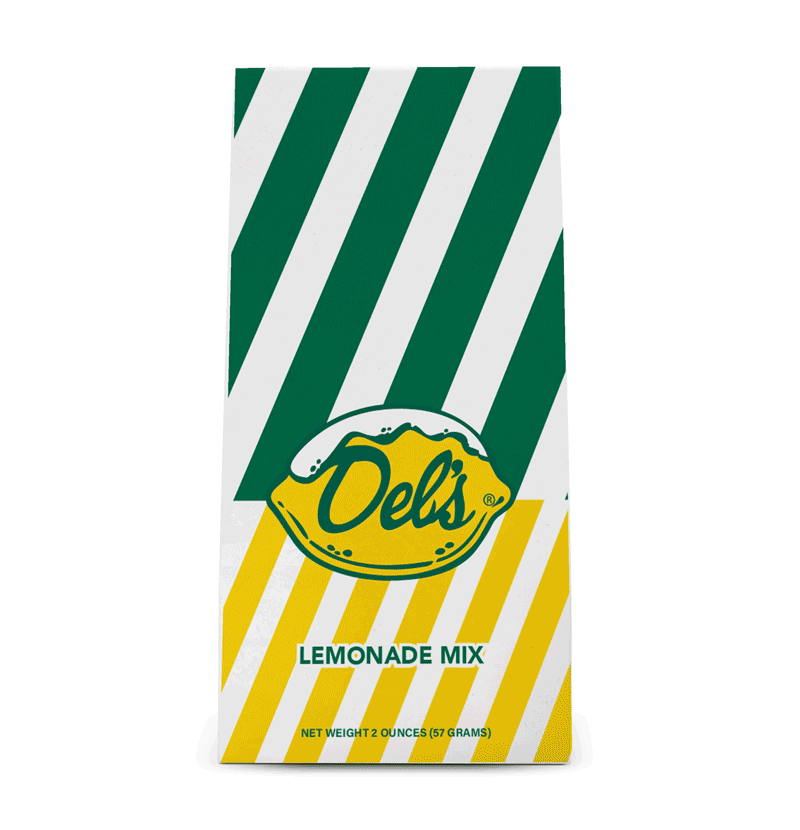 Design 1
The first concept stayed true to Del's current branding, with the addition of real lemon images on the sides of the box along with the story and past imagery. The placement of the "RI State Image" was experimented with, and it was found that the story worked well outside of the "RI State Image".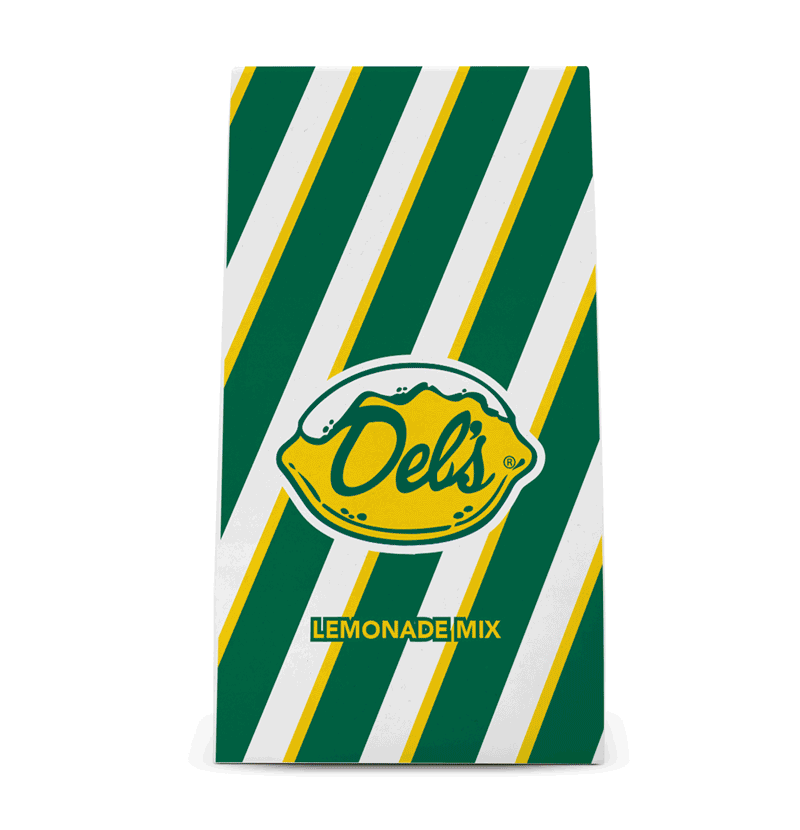 Design 2
The second concept was based on the design Del's initially showed us, with thick green stripes and yellow alongside. We chose to lighten it up by adding thicker white strokes between the green and yellow lines. The lemons remained on the sides of the boxes, with hints of cut lemons added on the bottom and the back under flap.
Design 3
The third concept incorporated more real lemon imagery and stylized the branding stripes in a more modern way. The yellow within the stripes was skipped due to an already dominant yellow theme in the design.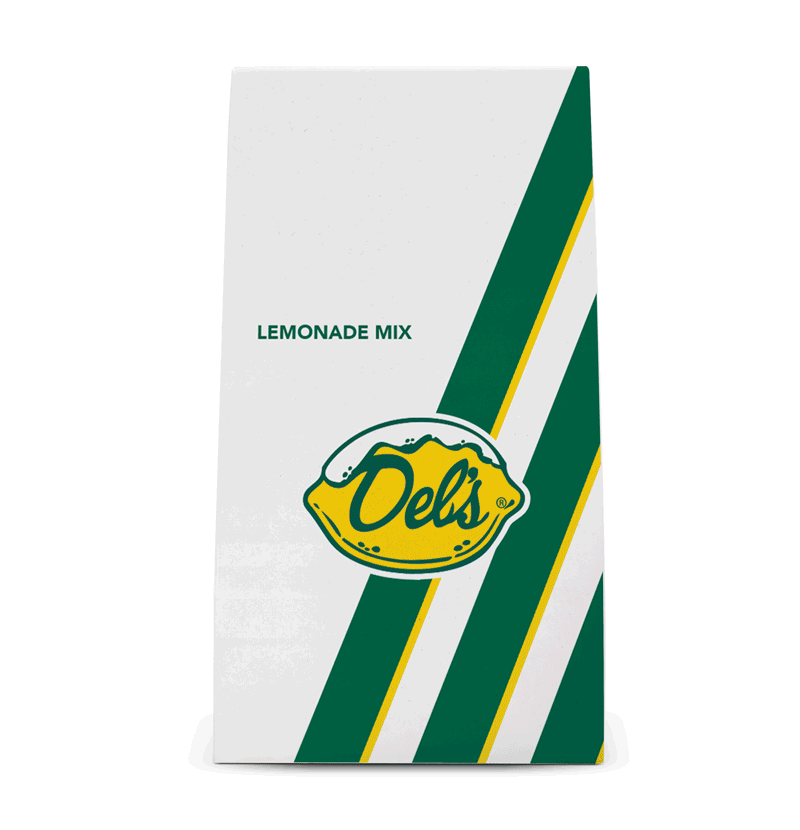 Design 4
This concept went for a minimalistic approach, with a white front to make the product stand out on the shelf. The branding stripes were also minimized. The "RI State Image" was enlarged to make the text easier to read.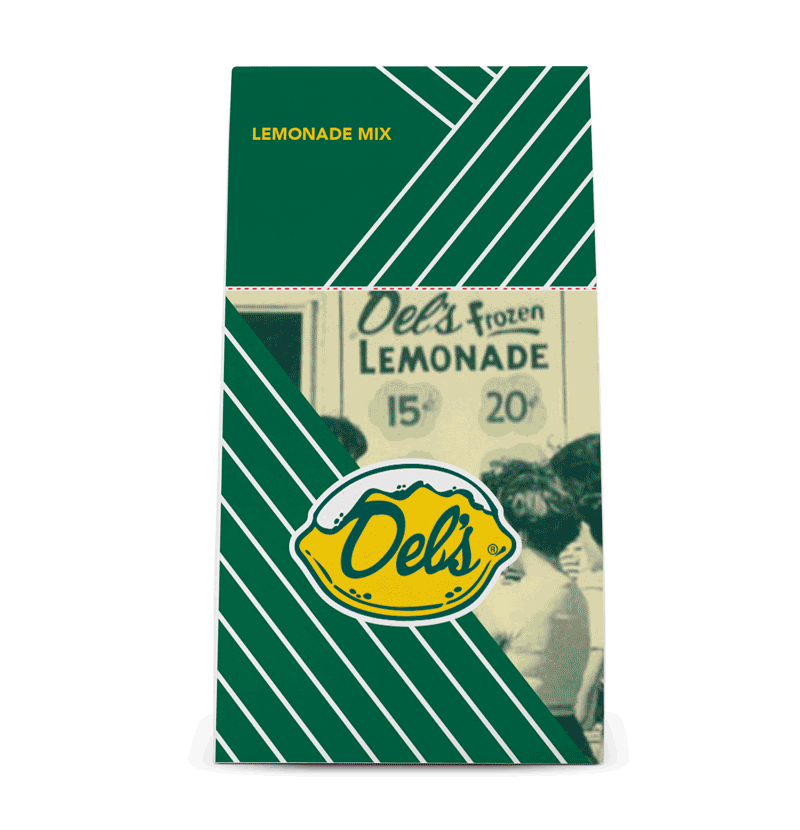 Design 5
The fifth design was a modern vintage concept, using thin lines with Del's vintage imagery and horizontal lines to modernize Del's branding.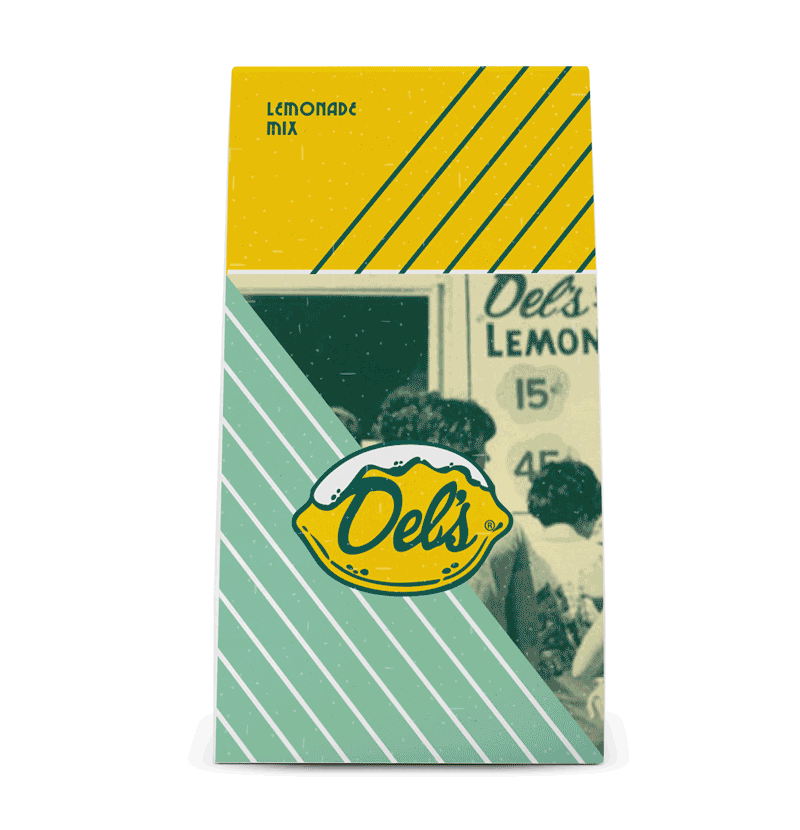 Design 6
This design took the modern vintage theme a step further, with muted pastel tones and a distressed overlay. The fonts used for "Lemonade Mix" and "Visit our website" were in a vintage modern style.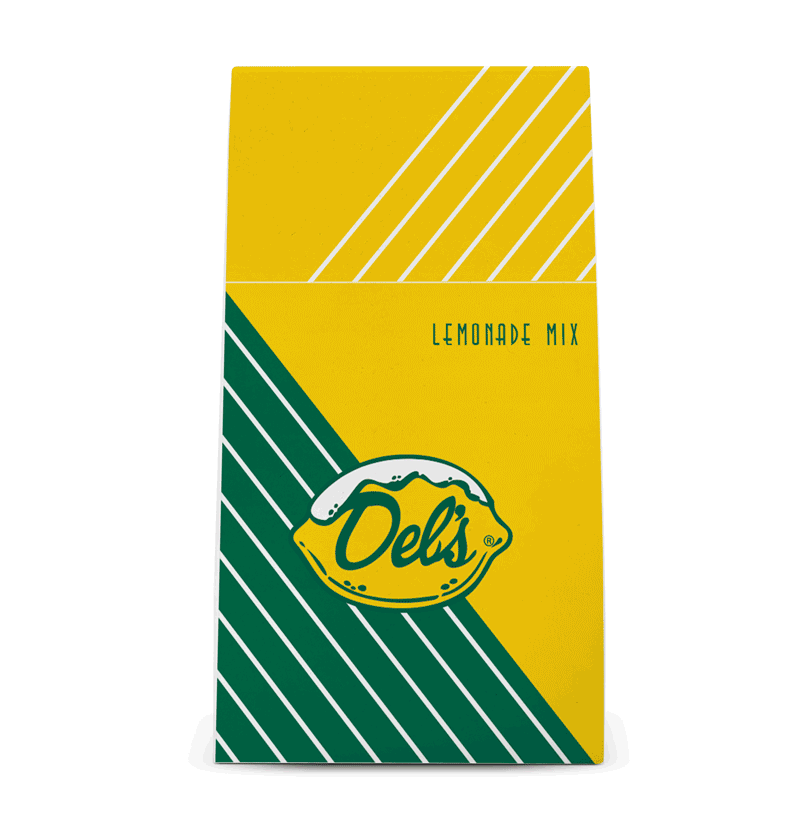 Design 7
The seventh concept leaned into a "Mid Mod" design, modernizing the striping but retaining Del's branding colors. The story was laid out on the side, making the text cleaner and easier to read.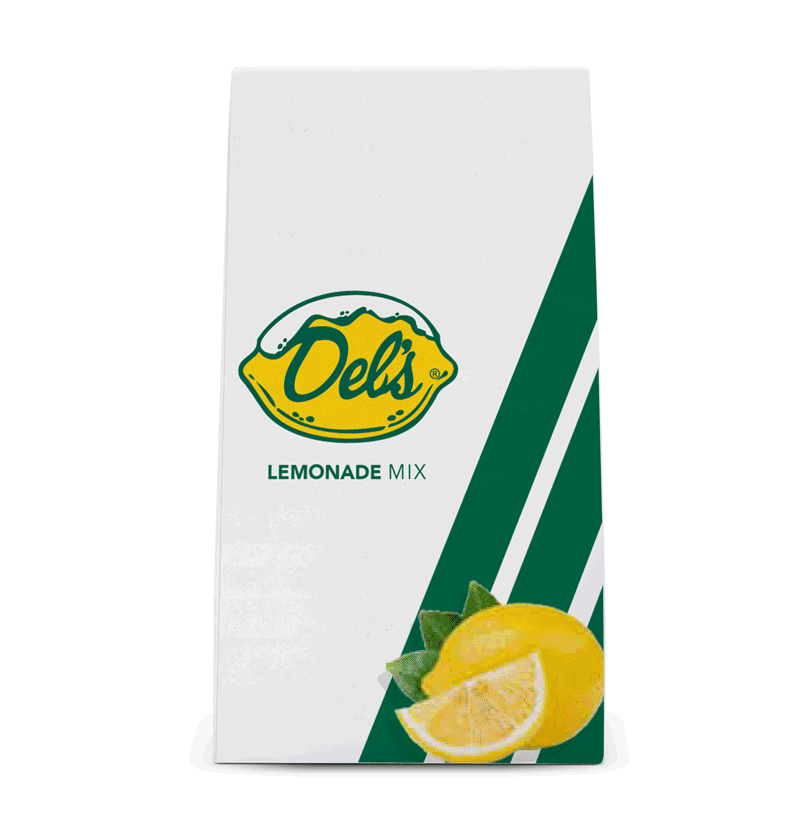 Design 8
This concept centered around the use of more real lemon imagery, with a clean and white design for modern appeal and focus on the real lemon and the logo.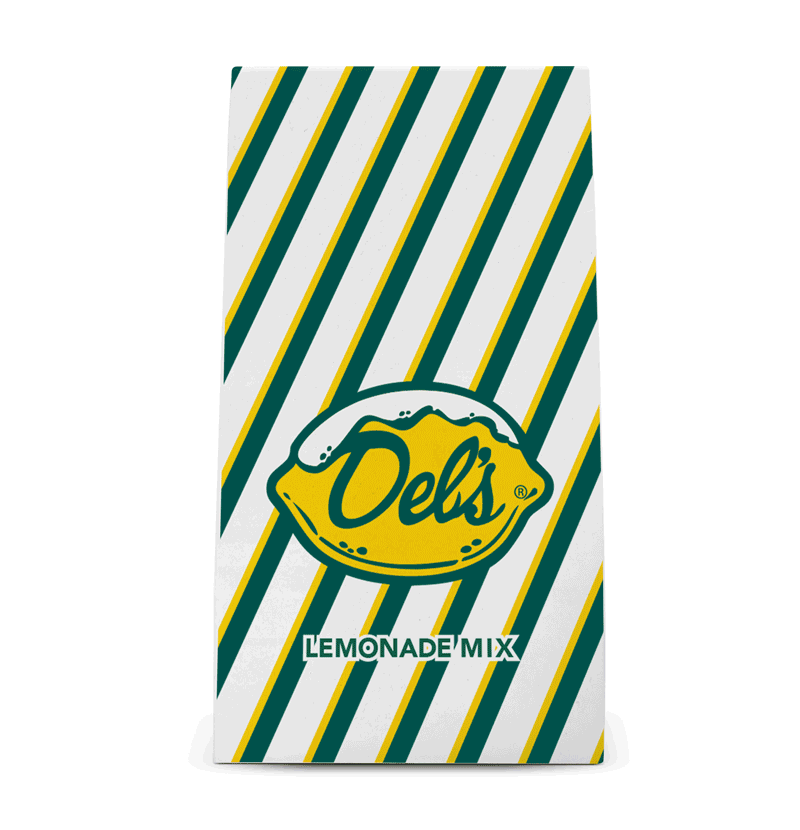 Design 9
Design nine modernized the Del's branding stripes and incorporated real lemon imagery, contrasting the white and the darker lines for a clean and modern appearance.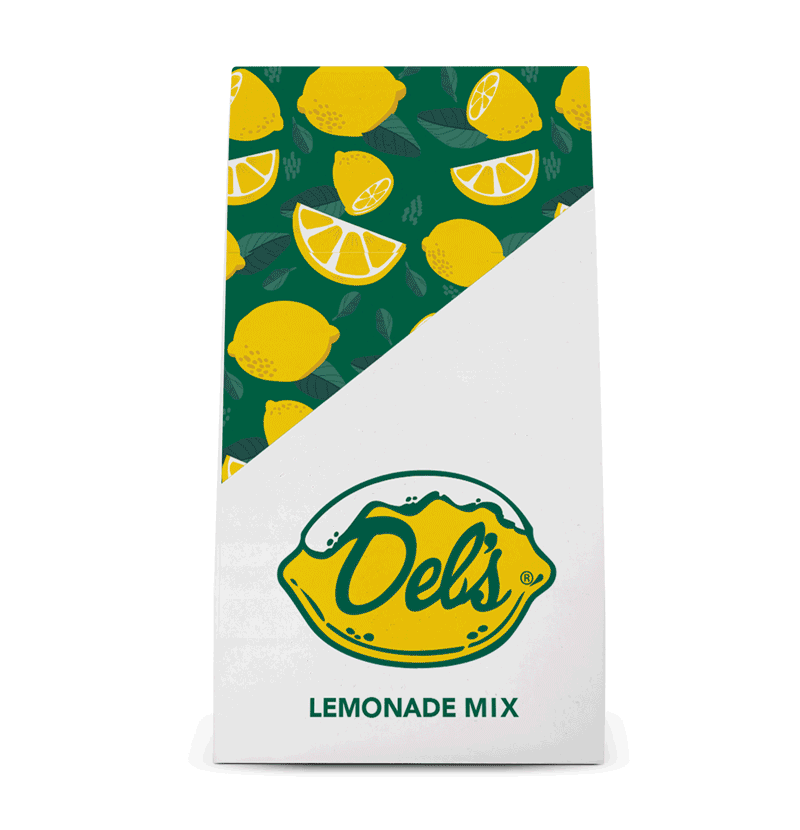 Design 10
The final concept merged Del's original branding with the real lemon design, replacing the usual yellow stripes with images of real lemons.
These initial concepts were then refined through several rounds of revisions until Del's was satisfied with their new packaging design. From the box design to the bags you see on the shelves at your local Del's supplier, TIB was proud to be part of the entire design journey from start to finish.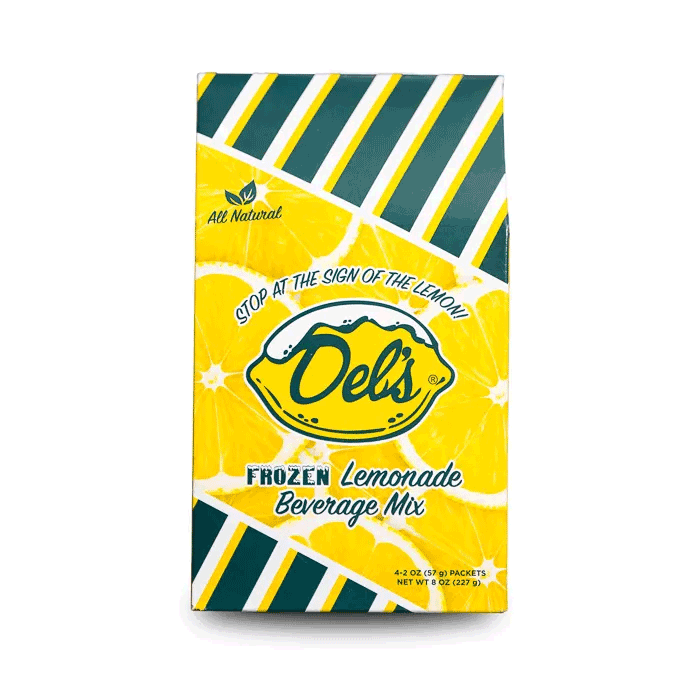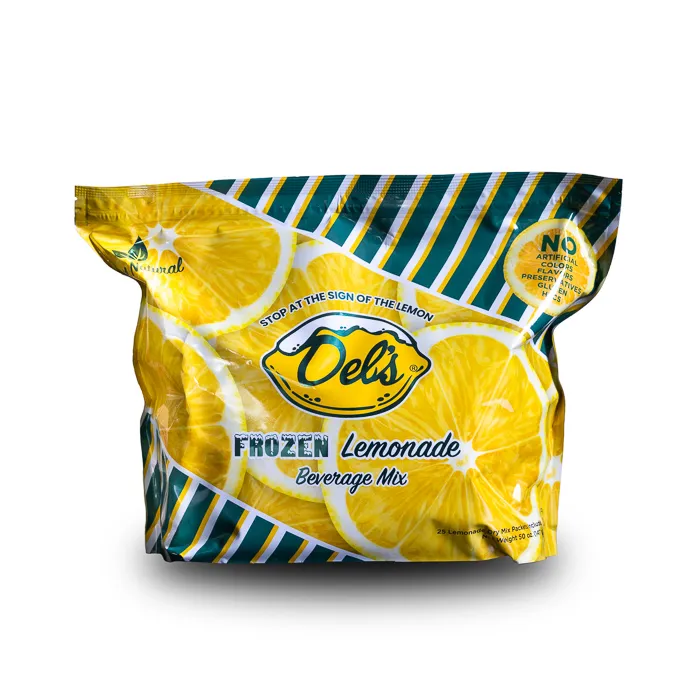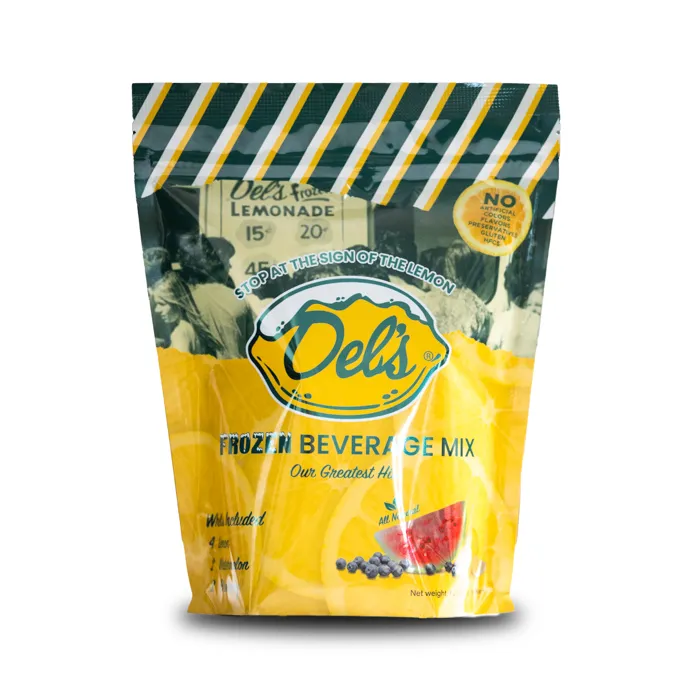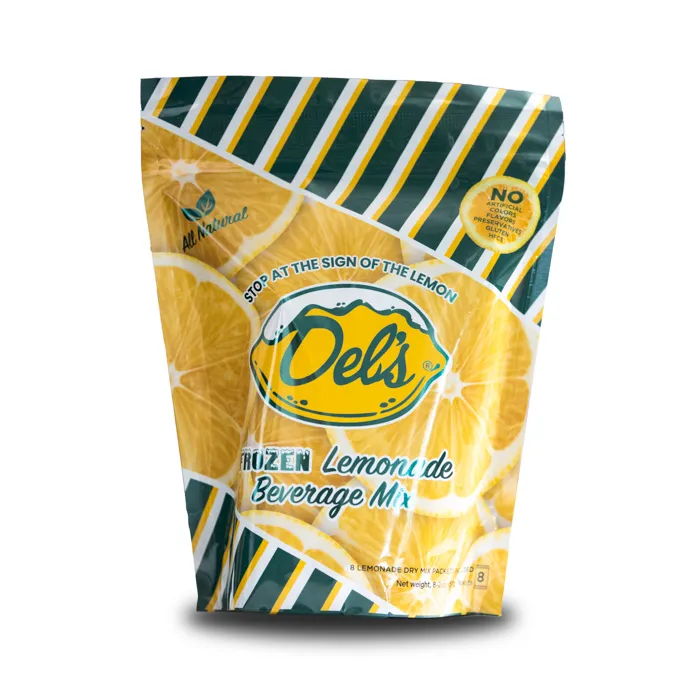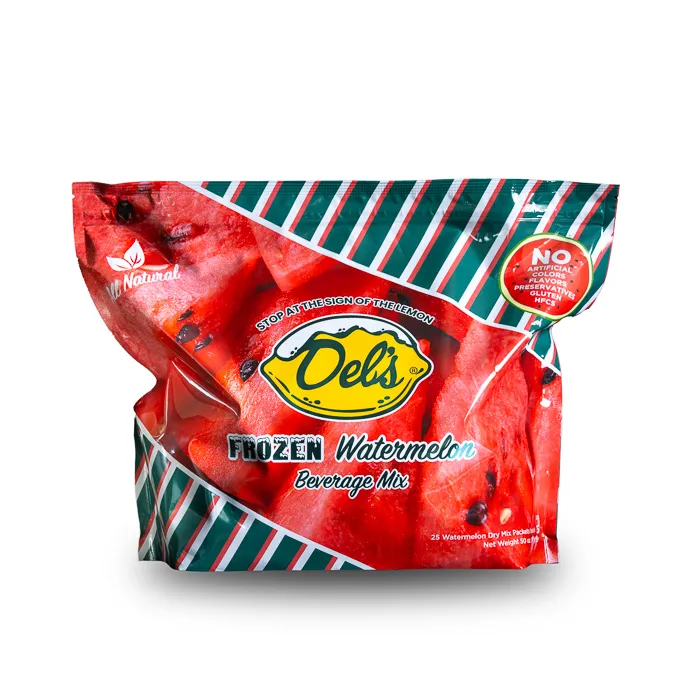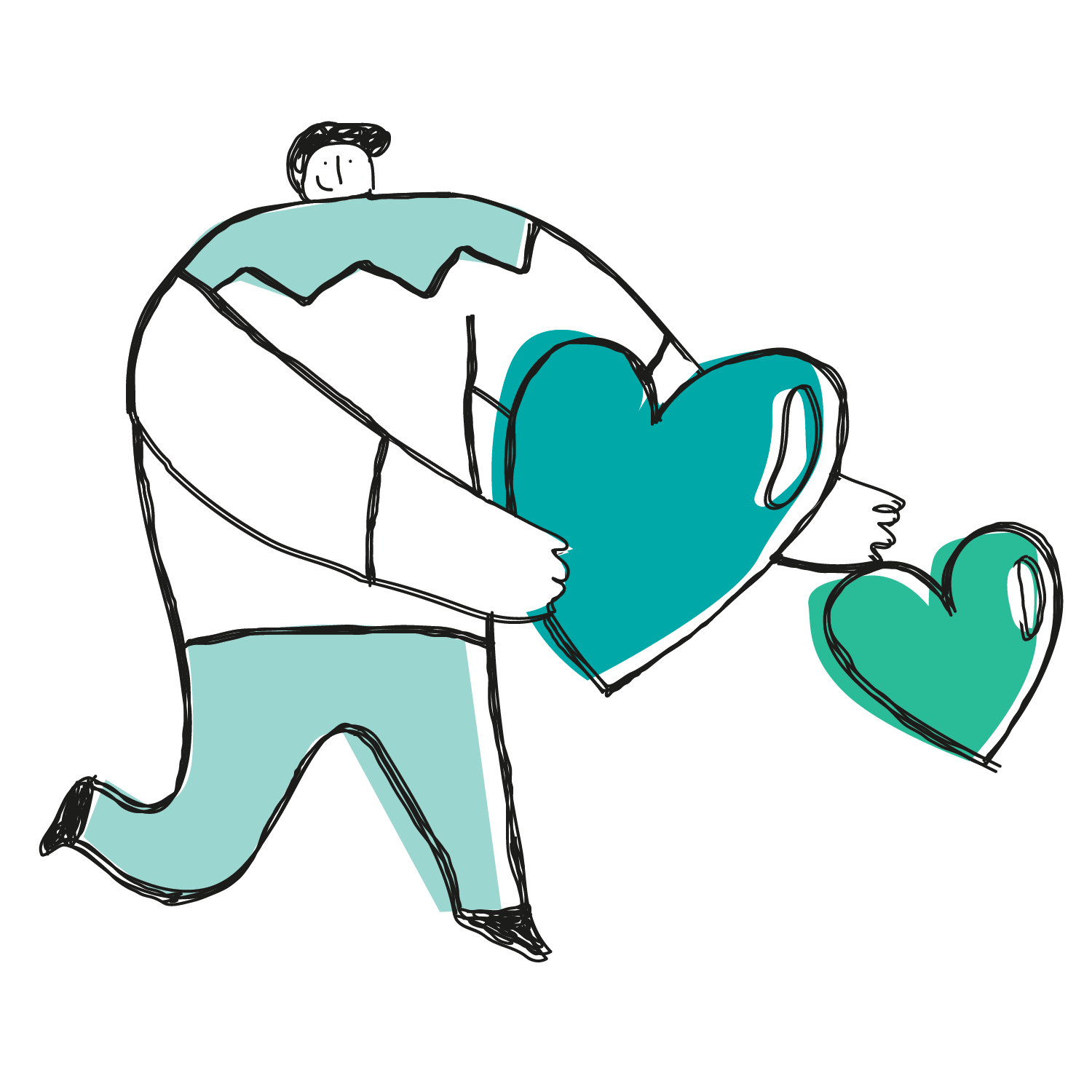 Testimonial
"When it comes to understanding our brand and translating it into design, TIB Creative Studio is a force to be reckoned with. Their keen eye for detail and innovative graphic and web design solutions have helped us elevate our branding. They're more than a top design agency; they're our creative partners in showcasing our mission."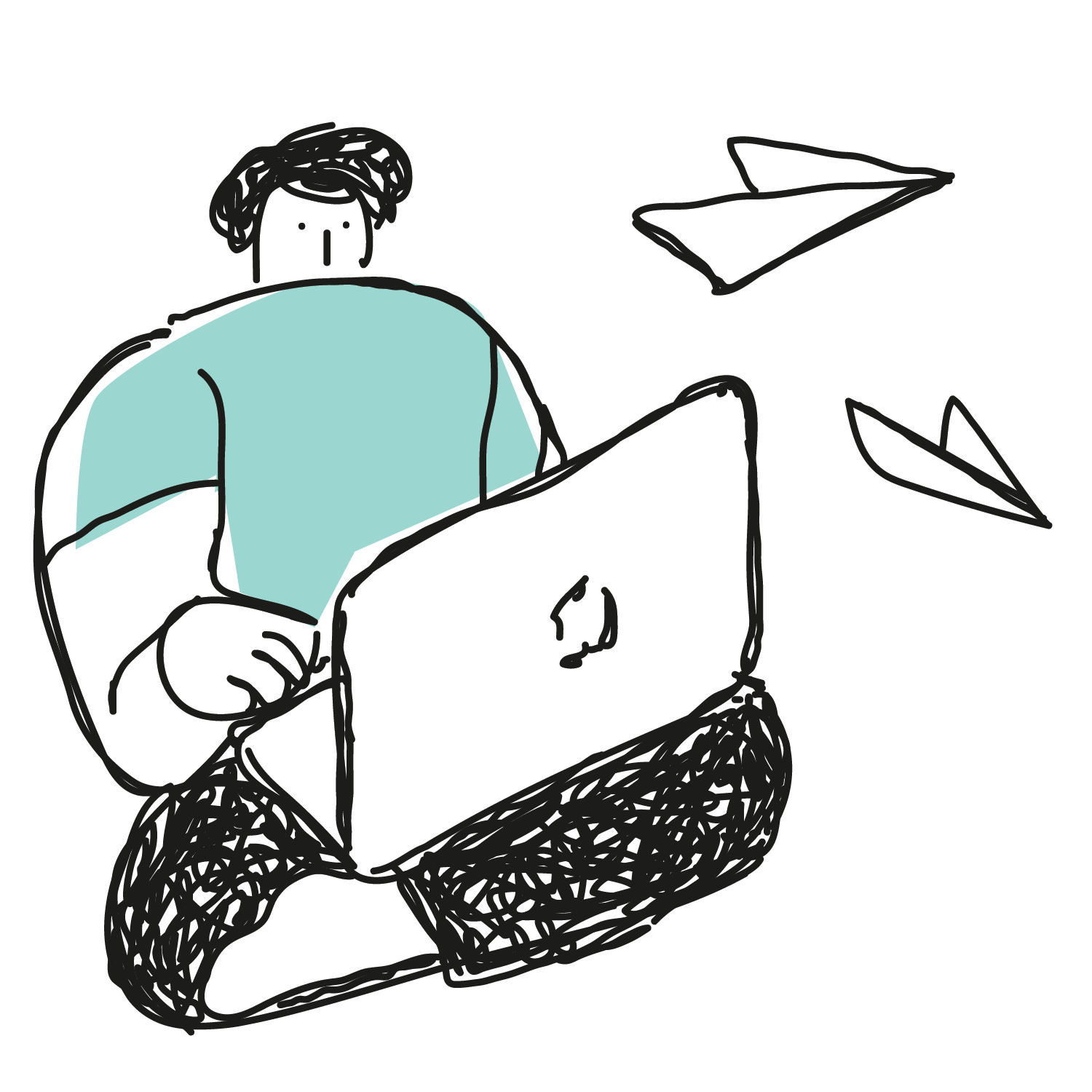 Feeling the zest of our work with Del's Lemonade? Whether you're looking for a complete brand overhaul, packaging design, or web design, we at TIB Creative Studio in Providence, Rhode Island are here to turn your ideas into tangible designs. Reach out to us today, and let's begin this exciting journey of transforming your brand.
1155 Westminster St
Suite 208
Providence RI 02909